AWARD WINNING BLUEGRASS MUSIC FROM THE PALMETTO STATE

Since its formation in 2013, South Carolina Bluegrass Band PALMETTO BLUE has quickly become an ambassador for bluegrass music in South Carolina. Their shows have taken them all over the Palmetto State and surrounding areas, where their performances have entertained audiences from all walks of life not only with their authentic brand of bluegrass music, but also with their stories of the history of the music as it was passed down to them from their mentors and tradition bearers before them. The band includes two members, vocalist Chris Boutwell and fiddler Ashley Carder, who have received South Carolina's Jean Laney Harris Folk Heritage Award, which is presented annually by the South Carolina General Assembly to practitioners and advocates of traditional arts in the state. The band also includes regional bluegrass veterans Steve Willis on banjo, Marty Carrigg on dobro, and vocalist Darryl Hudson on mandolin and guitar. From the younger generation we have 21 year old bass player and singer Shellie Davis, guitarist Ed Dalton, and fiddler and vocalist Ella Thomas, who have been playing music since their early childhood and are all bluegrass music veterans in their own right.

Palmetto Blue has been called on to open for Bluegrass and Country Music Hall of Famer Ricky Skaggs, as well as Bluegrass Hall of Famer Del McCoury. In 2019, Palmetto Blue was selected by McGraw-Hill Education and Sony Masterworks to be featured in the McGraw-Hill's 2019 Spotlight on Music educational series, representing South Carolina from a bluegrass music perspective as part of the educational curriculum for schools nationwide. Palmetto Blue's busy schedule has taken them to many varied venues that include the stage at The Sumter Opera House, The Colleton Civic Center, Myrtle Beach's Heart Walk at the Hard Rock Cafe, the 50th Annual National Convention of the US Special Forces and Green Berets, Hilton Head Island's Mayfest, Spring Island's "Arts on Spring" series, the SC State Fair, Riverbanks Zoo, Isle of Palms' Music in the Park, USC's FolkFabulous Festival, Columbia's St. Pat's in 5 Points Festival, Pickens County Habitat for Humanity, Historic Brattonsville, SC State Museum, USC's McKissick Museum, EdVenture Childrens Museum, Augusta's Morris Museum of Art, the Tasty Tomato Festival, the Forest Acres Festival, the Hampton County Watermelon Festival, the Hickory Hill Dairy, as well as many private parties, weddings, churches, schools, and most of the usual bluegrass venues throghout the state. Palmetto Blue loves to share their music tradition with everyone they meet. Whether it's a hard driving fiddle or banjo tune, a fast moving guitar flatpicked instrumental, an old mountain ballad, or the tight harmonies of Chris, Shellie, and Ella, you're sure to find something you will enjoy in a Palmetto Blue show.

Our band members are no strangers to the traditional music scene. In the 1970s, Chris Boutwell was the lead singer and guitarist for the band High Country, which was the premier west coast bluegrass band and recorded several LPs in the early 1970s on the Warner Brothers label. You will be challenged to find someone who knows the lyrics to more bluegrass songs than Chris. Chris plays mandolin true to the tradition and style of the father of bluegrass, Bill Monroe. He also knows the history behind the songs he sings, and will give you a bluegrass history lesson if you're interested. Chris is the 2014 recipient of South Carolina's Folk Heritage Award for his dedication to preserving bluegrass music traditions.

Below, band member Chris Boutwell is presented the 2014 South Carolina Folk Heritage Award at the SC State House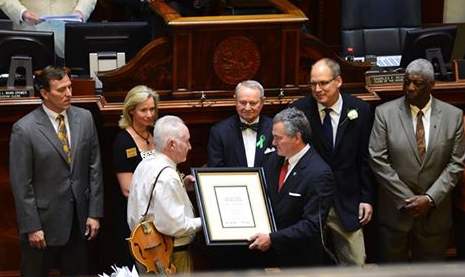 Shellie Davis has been playing the bass and singing in bluegrass bands since she was 8 years old, and will delight you with her sweet vocals. Steve Willis plays banjo in the solid Scruggs style tradition. He learned banjo licks as a teenager from Little Roy Lewis, and won numerous banjo contests during his teens. Our guitarist, Ed Dalton has been playing bluegrass since his youth growing up in the Winston-Salem, NC area. He has won his share of guitar contests over the years, and since moving to South, Carolina, he has been a fixture on the bluegrass music scene.

Fiddler Ashley Carder learned from local SC fiddlers including Pappy Sherrill and Vernon Riddle, and has been playing a driving style of old time and bluegrass fiddle for over 35 years. Ashley was the 2012 recipient of South Carolina's Folk Heritage Award and has been a member of numerous bands over the years, including the late South Carolina bluegrass ambassador Bill Wells' band.

Fiddler Ella Thomas joined the band in November 2017 after several years of being a guest and participating in two Palmetto Blue CD projects. She is the 2017 SC Junior Fiddle Champion and won first place youth old time fiddle at the 2019 Mount Airy Fiddlers Convention in North Carolina. Ella has been fiddling since she was about 10 years old and is equally adept at playing a driving hoedown or singing an old time ballad or gospel number.

Dobro player Marty Carrigg has been playing bluegrass since his teens in the late 1970s and adds his tasteful dobro licks to the mix. Vocalist Darryl Hudson joined the band in 2018 and adds some fine vocals as well as original compositions.

Below, band members Shellie Davis and Ashley Carder with SC Governor Nikki Haley during the presentation of the 2012 South Carolina Jean Laney Harris Folk Heritage Award to Ashley Carder for traditional fiddling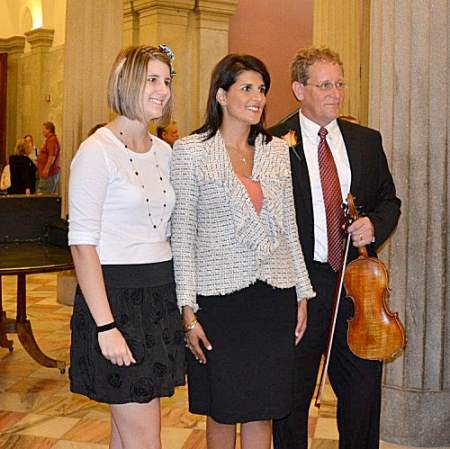 Below, band member Ella Thomas, 2017 South Carolina Junior Fiddling Champion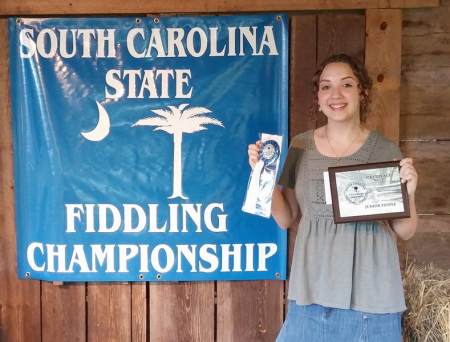 ---
Opening for The Del McCoury Band, March 2018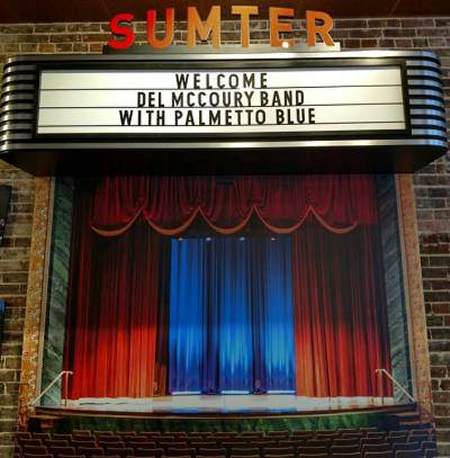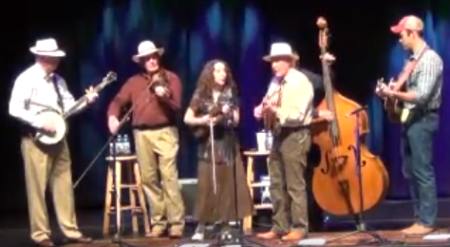 ---
Opening for Ricky Skaggs and Kentucky Thunder, October 2018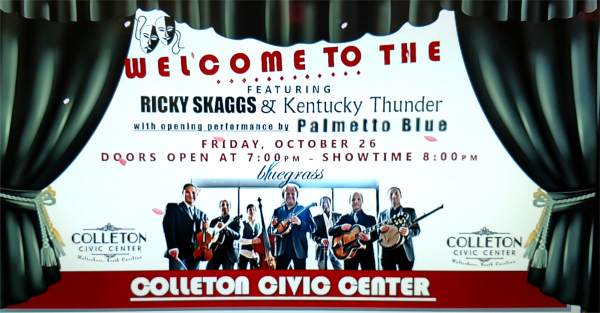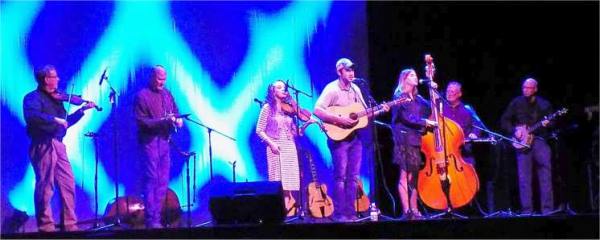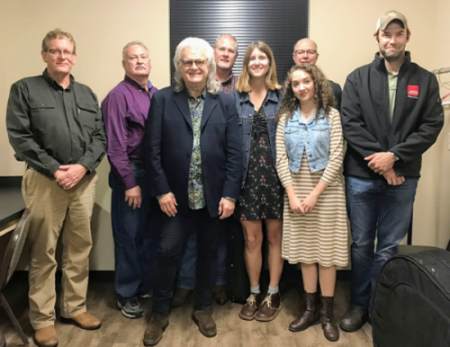 ---
Take a listen to us playing "Little Girl of Mine in Tennessee" in September 2017
---
Take a listen to us playing "Little Black Train" in September 2018
---
BUY OUR NEW ALBUM, "WANDERING BOY", RELEASED JANUARY 2019

---
BUY OUR ALBUM, "LOOKING BACK, LOOKING AHEAD", RELEASED SEPTEMBER 2017

---

If you want a square dance complete with a veteran caller, we team up with our friend Pete LaBerge, who has been calling traditional square dances for 40 years, and has called dances for the Smithsonian Folklife Festival and many other events.

Come to a Palmetto Blue Band show. You will not be disappointed!

We will play for your party, event, city festival, BBQ, wedding reception, square dance, afternoon social club, folklore class, political rally, historical exhibit, corporate function, barn raising, hunt club, fundraiser, state, national, or international conference, family reunion, oyster roast, and just about any other kind of event you can think of!

If you're looking at South Carolina bluegrass bands, you're sure to be pleased if you call on us the next time you need a bluegrass band to provide entertainment! Look no further for some of the best bluegrass South Carolina has to offer!

We're a member of the South Carolina Bluegrass and Traditional Music Association and we're insured with Performers of the US.






Find and Like us on facebook!
---
TESTIMONIALS FROM OUR LISTENERS

"Thank you for being part of our Farmyard Celebration! Y'all were wonderful!"
- Chandler G., Riverbanks Zoo, Columbia, SC, June 2019

"Your band was great and put on an amazing show. We definitely want you back down this way again!"
- Michelle L., Pawley's Island, SC, March 2019

"It's hard to beat Palmetto Blue on the bluegrass harmonies and instrumentation, and there's no band in South Carolina that has the twin fiddle numbers down like you do!"
- Larry, Long time bluegrass fan, Columbia, SC, June 2019

"Many thanks for coming down to the coast! Y'all put on a wonderful show. Hope to have you back again soon! Palmetto Blue is SC's best bluegrass band!"
- Dan T., Ph.D., Friends of the Waccamaw Library, Pawley's Island, SC, March 2019

"It really was a great program, everyone had dancing feet! Thanks for bringing Palmetto Blue to the Waccamaw Neck."
- Roslind B., Pawley's Island, SC, March 2019

"You folks are so humble, but your show was incredible. Thank you so much for coming to our stage and opening for Ricky Skaggs. So many people have told us how much they enjoyed your show."
- Gray H., Board Member, The Colleton Civic Center, Walterboro, SC, October 2018

"Your show was awesome when you opened for Ricky Skaggs. The crowd gave you a standing ovation and you most definitely deserved it!"
- Teresa, Bluegrass fan, The Colleton Civic Center, Walterboro, SC, October 2018

"I've been coming to every concert here at Allison Creek for several years, and your band is the best one that's ever been here."
- Joe, Bluegrass fan, Allison Creek Bluegrass, York, SC, October 2018

"The vocal trio harmonies of your band with the blend of Shellie, Ella, and Darryl are really outstanding."
- Karen, Audience Member, Allison Creek Bluegrass, York, SC, October 2018

"These folks are the real deal as far as old time bluegrass music goes! Their music will make you want to pat your feet and get up and dance! We're looking forward to having them back again."
- Nick, Arts Enthusiast, Spring Island, SC, August 2018

"While searching for a bluegrass band for our oyster roast, after listening to several other bands we found Palmetto Blue and knew we didn't need to look any further!"
- Chip, Plantation Owner, Charleston, SC, February 2018

"I've worked a lot of weddings in the area up here around Asheville, and your band is the best we've ever had. Thanks for everything. You all really play amazing and get the group of people going!"
- Ann, wedding planner, wedding in Fairview, NC, September 2017

"They are the BEST! Great at the Congaree Land Trust Gathering at Bramblewood. Thank you Palmetto Blue!"
- Ann Hagan, attendee, Congaree Land Trust Fall Celebration, Camden, SC, November 2017

"Thank you so much for providing the fantastic music at the wedding and for making the evening amazing AND enduring the cold!"
- Tracy, Mother of the Bride, Wedding at Sullivans Island, SC, November 2017

"I've traveled all over South Carolina listening to bluegrass, and just came from a festival in another part of the state, and your band is the best bluegrass we've heard in a long long time!"
- Heyward, audience member at the Hampton County Watermelon Festival, June 2017

"I've been to most of the bluegrass concerts that they've had at the Morris, and this is the best bluegrass show they've ever had!"
- William, audience member - Music at the Morris, Morris Museum of Art, Augusta, GA, September 2015

"The audience was very receptive and appreciative of the music, but I can understand why! Every time we hear you, it's like the first time. I especially enjoyed Chris and Ashley's explanations of the song backgrounds. This transformed a conventional event into a cultural experience."
- Marilyn, audience member at Spring Island's "Arts on Spring" concert, May 2016

"I was very much impressed with your interactions with the kids during Heritage Days at the Depot. You gave them some historical background, then got them involved! I'd love to have your band come do a program at Historic Brattonsville."
- Karen Cox, School Programs Manager, Historic Brattonsville Culture and Heritage Museums, October 2015

"Very tight professional playing. Very well done."
- Don Pugh, Long time bluegrass fan, May 2017

"Your show at the SC State Museum was a first class bluegrass event."
- Leo Pearson, Bluegrass fan and SC Bluegrass and Traditional Music Assn Board Member, May 2017

"Thanks so much to Palmetto Blue for coming to Myrtle Beach and being part of my campaign. Everyone is still talking about how much they enjoyed your band. I owe part of my election to you and the wonderful music. I couldn't have done it without you!"
- Myrtle Beach City Councilwoman Mary Jeffcoat, November 2015

"We just love having your band come here. Your stories about the music and the harmony singing of the Davis sisters and Chris just gives your band something that other bands don't have. We look forward to having you come back!"
- Waynesboro Opry Hostess Pamela Medley, February 2015

"Palmetto Blue played for my father's 70th birthday party and did an outstanding job. They got rave reviews from everyone present. They adjusted their playing style throughout the evening to accommodate the situations and were very engaging with the audience. The music was very well done and their singing was pleasant and well harmonized. I would recommend them for any event based on their accommodating nature and warm stage presence."
- Steven J, Lexington, SC, February 2014

"Palmetto Blue is the most authentic of the South Carolina bluegrass bands on the scene in the midlands today."
- Pat Ahrens, Bluegrass writer and 1996 Recipient of South Carolina's Jean Laney Harris Folk Heritage Award, January 2015

"We love listening to Chris sing. His voice is as smooth as the velvet on a deer antler."
- Micahlan Boney, traditional musician and multi-instrumentalist from Claxton, Georgia, April 2015

"Hearing your music, especially the fiddle on Listen to the Mockingbird, takes me back to the days of Pappy and Snuffy and the Hired Hands when they played on WIS. I just love you guys and gals and your music!"
- Joe Pinner, award winning news anchor and 50+ year member of Columbia, SC's WIS-TV, October 2014

"Thank you so much for making our Through the Fire event such a success. We had so many people! I heard nothing but great things about your band! I look forward to having you guys back at the Museum."
- JoAnn, Curator of History, SC State Museum, February 2015

"We really have enjoyed your music tonight and would like to have your band come and play at the 50th Annual National Convention of the US Special Forces and Green Berets. So many folks here tonight have told me how much they have enjoyed your music and how you played their requests for them."
- John, Special Forces Ambassador, Private Armed Forces Party, September 2013

"Chris Boutwell is the best Scruggs-style guitar picker I've ever heard besides Earl Scruggs himself."
- patron at Bill's Music Shop, November 2013

"I just really like the mix that your band has. It has the right mix of all the good stuff - old fashioned bluegrass standards as well as rarely heard numbers, music veterans mixed with fresh young voices, old time fiddle and banjo tunes, old fashioned gospel songs, and even a bluegrass take on a Beatles song. I really like your sound!"
- Pete LaBerge, Nationally Acclaimed Square Dance Caller and Mountain Dance Instructor, February 2015

"Pat, we've been coming here to Lone Star for years, and this is the best bluegrass band you've ever had in here!"
- customer at Lone Star BBQ, November 2013

"Shellie, you and your band are totally awesome! I can't believe you're in high school and playing in a band like this.
When I grow up, I want to be you!"
- student in a USC college folklore class, November 2013

"Chris plays some of the best Monroe style mandolin you'll ever hear around these parts."
- bluegrass fan at Bill's Picking Parlor, November 2013

"Steve and Ashley play the banjo and fiddle with down to earth feeling and drive that makes you want
to pat your foot, clap your hands, or get up and dance, like the music's supposed to be played."
- fan at Bill's Picking Parlor, January 2015

---
REMEMBERING BRUCE MOYER (1952 - 2017)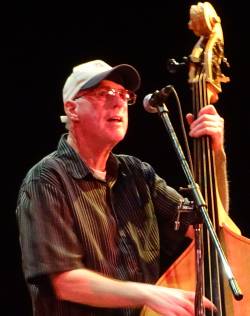 Our long time friend Bruce Moyer passed away unexpectedly on November 25, 2017. Over the years Bruce filled in or guested with us on bass numerous times and added some fine vocals and tenor harmony. Bruce was well known in the local bluegrass community and was a friend to all. We will miss sharing in the music with Bruce, but will forever be thankful for the times we shared and will cherish the memories. We put together the video below in memory of Bruce.

Bruce Moyer sings "Girl From West Virginia" with Palmetto Blue, April 2016