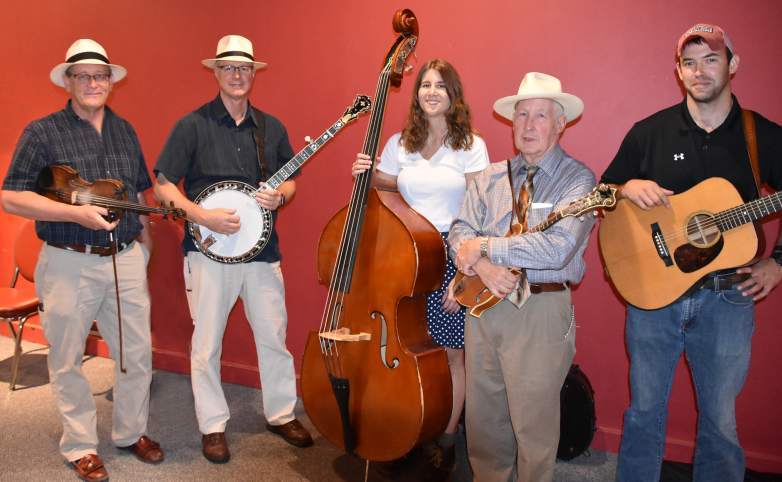 JOIN US AT COLUMBIA, SC'S ST. PAT'S IN FIVE POINTS FESTIVAL MARCH 14, 2015.
WE'LL BE ON THE WXRY STAGE AT 1:00PM. SEE YOU THERE!
---
AWARD WINNING BLUEGRASS MUSIC FROM THE PALMETTO STATE

South Carolina Bluegrass Band PALMETTO BLUE is a blend of seasoned veterans of traditional music mixed with the freshness of
youthful band members who have been playing bluegrass music since their childhood. We are serious about having fun while passing
along the tradition of our music. Our shows are sure to entertain you. You will hear old favorites, lively fiddle and banjo tunes
that make you want to dance and tap your feet, old time country songs, a capella trio songs, and new favorites as well.

Our band members are no strangers to the traditional music scene. In the 1970s, Chris Boutwell was the lead singer and
guitarist for the band High Country, which was the premier bluegrass band on the west coast and recorded several LPs in the
early 1970s on the Warner Brothers label. You will be challenged to find someone who knows the lyrics to more bluegrass songs
than Chris. Chris plays mandolin true to the tradition and style of the father of bluegrass, Bill Monroe. He also knows the history
behind the songs he sings, and will give you a bluegrass history lesson if you're interested. Chris is the 2014 recipient of South
Carolina's Folk Heritage Award for his dedication to preserving bluegrass music traditions.

Below, band member Chris Boutwell is presented the 2014 South Carolina Folk Heritage Award at the SC State House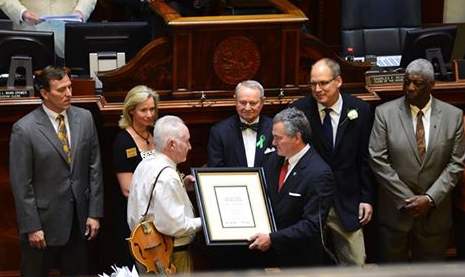 Shellie Davis has been playing the bass and singing in bluegrass bands since she was 8 years old, and will delight you with her
sweet vocals. Steve Willis plays banjo in the solid Scruggs style tradition. He learned banjo licks as a teenager from Little Roy
Lewis, and won numerous banjo contests during his teens. Our guitarist, Anna Davis has been playing in bluegrass bands since
she was 13. In 2008, she won the banjo contest at the Congaree Bluegrass Festival at the age of 16. Fiddler Ashley Carder
learned from local SC fiddlers including Pappy Sherrill and Vernon Riddle, and has been playing a driving style of old time and
bluegrass fiddle for over 30 years. Ashley was the 2012 recipient of South Carolina's Folk Heritage Award and has been
a member of numerous bands over the years, including South Carolina bluegrass ambassador Bill Wells' band.

Take a listen to us playing at the South Carolina State Fair in October 2014


---

If you are in need of a square dance complete with a veteran caller, we will team up with our friend Pete LaBerge, who has been calling
traditional square dances for almost 40 years, and has called dances for the Smithsonian Folklife Festival and many other events.

Come to a Palmetto Blue Band show. You will not be disappointed!

We will play for your party, event, city festival, BBQ, wedding reception, square dance, afternoon social club, folklore class,
political rally, historical exhibit, corporate function, barn raising, hunt club, fundraiser, state, national, or international
conference, family reunion, oyster roast, and just about any other kind of event you can think of!

If you're looking at South Carolina bluegrass bands, you're sure to be pleased if you call on us
the next time you need a bluegrass band to provide entertainment!

---
TESTIMONIALS FROM OUR LISTENERS

Palmetto Blue is the most authentic traditional bluegrass band on the scene in the midlands of South Carolina today."
- Pat Ahrens, Bluegrass writer and 1996 Recipient of South Carolina's Jean Laney Harris Folk Heritage Award, January 2015

"We just love having your band come here. Your stories about the music and the harmony of the Davis sisters and Chris just gives your band something that other bands don't have. We look forward to having you come back!"
- Waynesboro Opry Hostess Pamela Medley, February 2015

"Palmetto Blue played for my father's 70th birthday party and did an outstanding job. They got rave reviews from everyone present. They adjusted their playing style throughout the evening to accommodate the situations and were very engaging with the audience. The music was very well done and their singing was pleasant and well harmonized. I would recommend them for any event based on their accommodating nature and warm stage presence."
- Steven Jackson, Lexington, SC, February 2014

"Hearing your music, especially Listen to the Mockingbird, takes me back to the days of Pappy and Snuffy and the Hired Hands when they played on WIS. I just love you guys and gals and your music!"
- Joe Pinner, award winning news anchor and 50+ year member of WIS-TV, October 2014

"Chris Boutwell is the best Scruggs-style guitar picker I've ever heard besides Earl Scruggs himself."
- patron at Bill's Music Shop, November 2013

"Pat, we've been coming here to Lone Star for years, and this is the best band you've ever had in here!"
- customer at Lone Star BBQ, November 2013

"Shellie, you and your band are totally awesome! I can't believe you're only 15 and playing in a band like this.
When I grow up, I want to be you!"
- student in a USC college folklore class, November 2013

"Chris plays some of the best Monroe style mandolin you'll ever hear around these parts."
- bluegrass fan at Bill's Picking Parlor, November 2013

"Steve and Ashley play the banjo and fiddle with down to earth feeling and drive that makes you want
to pat your foot, clap your hands, or get up and dance, like the music's supposed to be played."
- bluegrass fan at Bill's Picking Parlor, 11/22/2013